Wheelhouse #12: With Spencer Wright
Toolboxes, Organizing, and Cutting
Wheelhouse is a newsletter for makers that covers new materials, techniques, and tools.
This edition is guest edited by Spencer Wright: Spencer is the editor in chief of The Prepared, a newsletter and community about manufacturing, engineering, and logistics. An avid person-who-makes-stuff, he has engineered robot doors, built custom bicycle frames, and figured out how to (semi sustainably) make niche consumer electronics just-in-time in the US.
Tool Organizing Foam
Kaizen foam is a brilliant and pernickety product which lets tool snobs take their pedantry to a whole new level. Made from laminated sheets of closed cell polyethylene, it is meant to be installed in tool chests or (if you're a real showoff) in wall-mounted tool frames. Once your kaizen foam is cut to size and installed in your drawer or box, you simply trace the outlines of your tools, cut their perimeters with a razor blade (my preferred model is the Olfa Cutter 300), and dig out the foam under your tool. This creates a snug, soft pocket for it to sit in permanently, and (because each tool has an obvious home) makes shop cleanup & organization much quicker.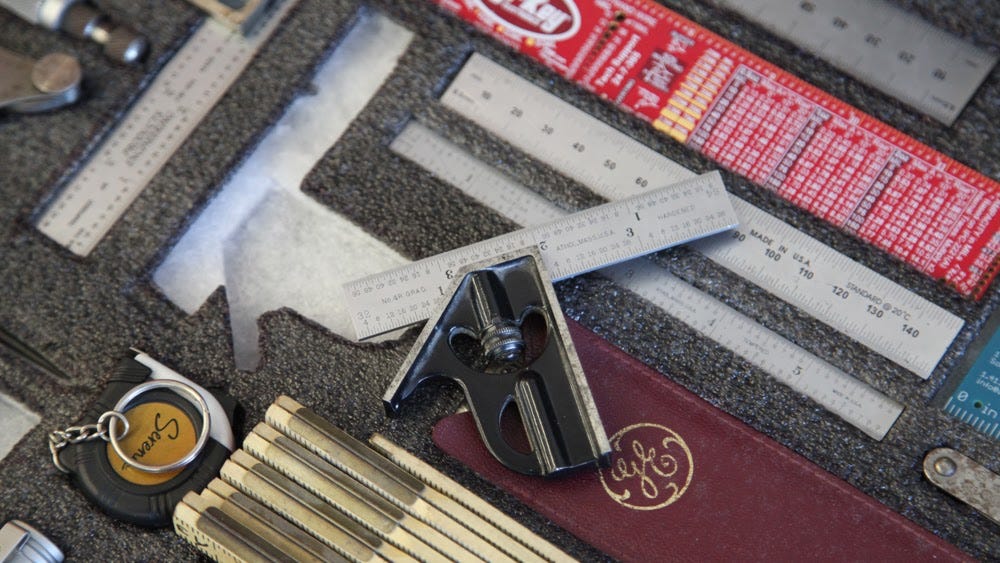 Notes:
Kaizen foam is quite labor intensive to lay out and cut, and once that's done your tool layout is effectively impossible to edit. This makes the act of installing kaizen foam antithetical to the philosophical ideal of kaizen, which is typically translated as "change for the better" or "continuous improvement."  Kaizen foam does function to reduce mistakes, though - making it fit in nicely with another Toyota Production System term, poka-yoke.

Kaizen foam comes in metric thicknesses (20, 30, or 57 mm) but imperial sheet sizes (2' x 4') - something that this author finds deeply annoying.

Fastcap, the maker of kaizen foam, sells a range of tools and accessories meant to make your tool chests even neater & cleaner. While this author has been tempted by some of them, the reality is that you can do a totally suitable job with a normal sharpie and a decent snap-off or X-Acto knife.
Inventory Software
PartsBox is a web app for maintaining your small parts library. Intended for electronics but also suitable for nuts and bolts, PartsBox is like a card catalog for your small parts drawers, giving you a quick, searchable database of all those little parts you bought, used once, and then put in deep storage. 

I spent about a week cataloging years of old purchases when I first discovered PartsBox, and the effort has paid off *very* well. Because it makes all of my parts quickly searchable, I now search PartsBox before even reaching for my physical parts cabinet (which, with hundreds of storage locations and tens of thousands of individual parts, is laborious to find anything in). I also search PartsBox pretty much any time I make a McMaster-Carr or Digikey purchase, and have avoided plenty of shipping charges as a result.
Flush cutting saws
Growing up on job sites, about 95% of my formative wood cuts were made with skilsaws - 7-¼" circular power saws, mostly built in the sidewinder configuration and branded by Porter-Cable or DeWalt. But whatever the configuration, power saws kick up a *lot* of dust and are IMO unsuitable for workshops that also do finish electronics/product work. 
So for those of us who try to do woodworking in non-woodworking spaces, pullsaws - especially Japanese dozuki and ryoba - offer big advantages over Western hand saws. And perhaps the most unique of pullsaws is the kugihiki, which is used to cut dowels, tenons, and other protruding parts from a finish face.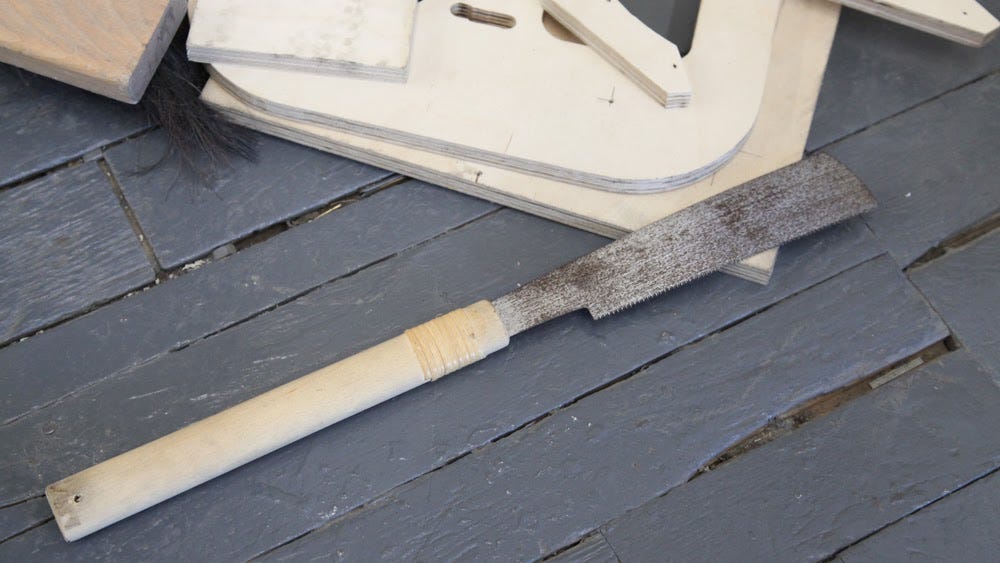 There are wide variations in hand saw tooth geometry. Most have "set" teeth, in which the teeth are physically bent out of plane with the saw plate; this allows dust to be efficiently extracted from the kerf. This makes them cut quickly, but it also means that they'll scratch anything that rubs up against their sides. Kugihiki have no set, though, making their sides smooth and allowing them to be used right up against finished surfaces. This makes them ideal for trimming one piece of wood so that it's flush with another, previously finished piece.
Wheelhouse Announcements
Join our Discord here and show off your latest ideas and discuss tools, techniques, and materials.
Please continue adding your favorite maker YouTube channels here and I will publish a list when it gets big enough.
Thanks! — Joshua